What is a Bunker Boot Mate?
A Bunker Boot Mate is a noninvasive strap that simply snaps between the two snaps that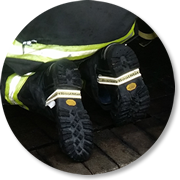 already exist between the liner and outer shell of most turnout pants. The strap then wraps around your boot at the instep and attaches to the remaining pair of snaps on the other side. The elastic component of Bunker Boot Mates  provide the security that you need without restricting you from doing your job.  Trust  Bunker Boot Mate to help protect your legs and keep your pants comfortably placed over your boots.
Fire resistant materials
Snaps between liner and outer shell of most bunker pants
Loops around boot at instep
Helps protect legs in the event of a fall-through
Helps prevent pants from riding up while crawling
Made in the USA
How to Install Bunker Boot Mates:
Click here for more detailed installation instructions.
Watch our Vertical Burn Test:
Will Bunker Boot Mates fit my gear?
Bunker Boot Mates will fit most types of gear on the market. When placing your order, be sure to include the year, manufacturer and model of your gear. This will help us make sure that you receive the proper variation of Bunker Boot Mate to fit your gear. Should you have an issue with fit or installation, feel free to give us a call or shoot us an email!